The Codori Family

Home | Codori News | 44 York St. | Family Tree | Our French Connection | Codori Pictures | Codori Signs | Codori Site Map | Cordary/Kotary Site Map
The Codori Farm | Codori Reunions | Nick's Art Work | Codori Companies | Hottviller, France | Pam's Book | St. Francis Book
---
Charles Francis Codori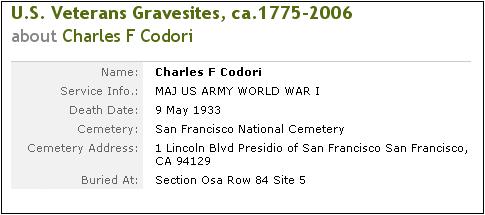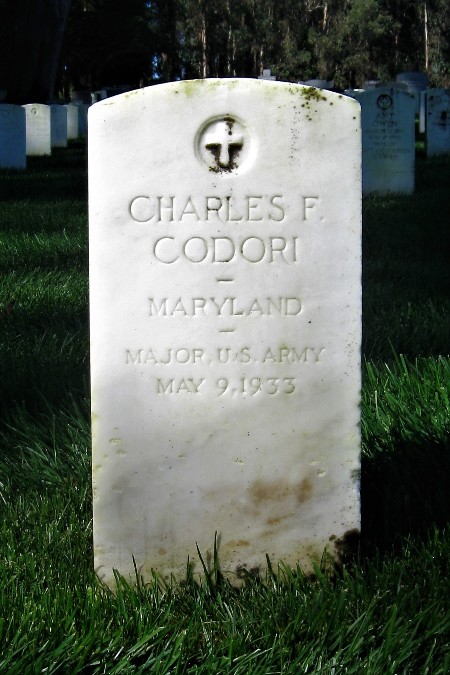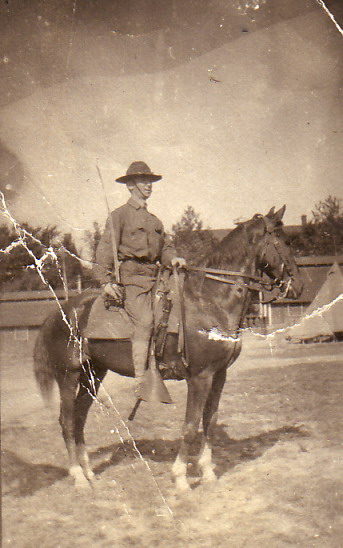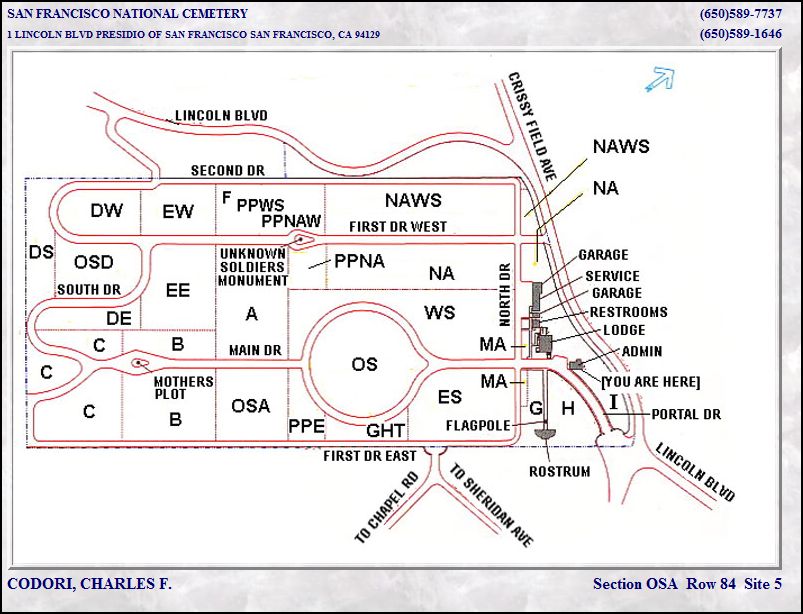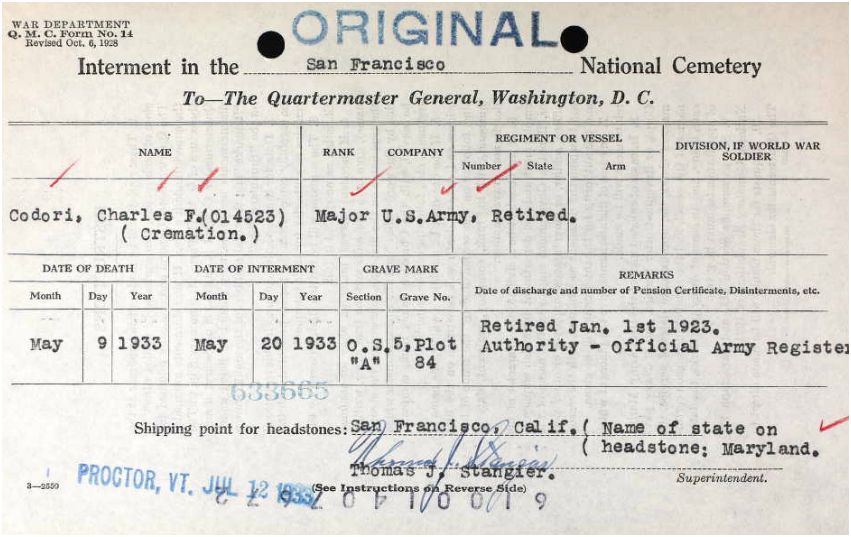 From information from Dolores Fantin on 6 13 2002 she said that Charles was never married.

Also, information from Patti Kehler's web site, about 2001.

Charles Francis Codori (son of George Joseph Codori and Cornelia Franceanna Florence)70 was born February 28, 1876 in Emmitsburg, PA.

Notes for Charles Francis Codori:
The following is from a letter written by Ollie Mae Codori:

Left home when he was about 15 or 16 years. He joined the army as a drummer boy. He spent 25 years in the Philippine Islands. He retired as a Major.

He lived in Maryland then went to Oakland, California with Cornelia and Ollie Mae around 1922. George J. followed and moved in with them a few years later.

Charles health began to fail, so he set up a house for Cornelia, George & Ollie Mae in San Bernardino.
He traveled, went back to San Francisco. He also had a home at Lake Tahoe.
His health got worst.

He set a trust fund up - George was to take of it: also said Maggie and George would get all of his estate. " When he died the nurse had gotten him to change the will a few weeks before he died. So all his folks got was the trust fund. They didn't even know he was dead for over a month. When George saw him about six months before he died he gave him a copy of the will. When I heard about it I told them they should contest the will. They didn't have a lot of money I tried to talk them into getting a lawyer on a percentage. They felt it would be wrong so just said the guy would pay for his sin later."

Charles was cremated and the ashes were dropped over the Golden Gate Bridge, but there is a grave marker in the Presidio Cemetery & one in Arlington National Cemetery, Washington, DC.He never married.

Was a 33rd Mason.

Maryland in the World War 1917-1919: Military & Naval Service Records, Vols. I & II Serbian, Order of St. Sava:
Charles F. Codori: Address: Hagestown, Washington Co., Birth Place: Emmitsburg, MD
Birth Date: 28 Feb. 1876
Comment: RA 1 Lt Philippine Scouts; capt Philippine Scouts 4/2/18 maj Ing; RA 9/30/19 capt Philippine Scouts, 7 Bn Philippine Scouts; Adj 3 Off Tng School Ft. McKinley P.I. 12/22/17; Co B 1 Prov Engrs (Philippine) 8/8/18; 2 Bn 3 Prov Inf (Philippine) 9/6/18; Asst Insp Philippine Dept 6/14/19, Retired 10/15/19.

More About Charles Francis Codori:
Burial: Cremated: ashes dropped over the Golden Gate Bridge, California.