The Codori Family

Home | Codori News | 44 York St. | Family Tree | Our French Connection | Codori Pictures | Codori Signs | Codori Site Map | Cordary/Kotary Site Map
The Codori Farm | Codori Reunions | Nick's Art Work | Codori Companies | Hottviller, France | Pam's Book | St. Francis Book
---
Edwin Chrismer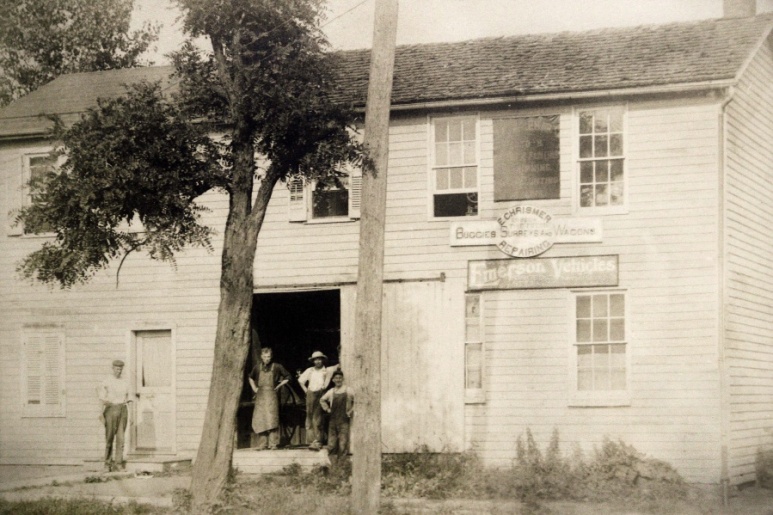 Edwin is the one with the apron in the doorway. About 1886
Death notice sent by Mary (Chrismer) Heinzs on March 7 2001


Edwin Chrismer died 9 Oct, aged 91 years of Emmitsburg died at the
Longview Nursing Home, Manchester PA Thursday night at 8:50. He had been
a resident at the home for the past two years. By trade he was a
wheelwright & a carriage maker in Emmitsburg.
He was Son of the late John A. Chrismer& Susan Codori Chrismer. He was a
member of St. Joseph's Catholic church of Emmitsburg& the Holy Name
Society of the church.
Survivors include his wife, Mrs. Jeanette Humerick Chrismer, also of
Longview Nursing Home; four children, Sister Mary Paul Chrismer,
Lowell, Mass. ; Wade Chrismer, Bel Air; Mrs. Mary Travers, Baltimore; &
J. Everett Chrismer, of Emmitsburg; 14 grandchildren;7 great
grandchildren; one sister Miss Jennie Chrismer of Baltimore,
one Brother Joseph Chrismer,Bonneauville.
Funeral services Saturday morning at St. Joseph's Church. His Pastor Rev
Father James Twomey will celebrate; internment in church cemetery.