The Codori Family

Home | Codori News | 44 York St. | Family Tree | Our French Connection | Codori Pictures | Codori Signs | Codori Site Map | Cordary/Kotary Site Map
The Codori Farm | Codori Reunions | Nick's Art Work | Codori Companies | Hottviller, France | Pam's Book | St. Francis Book
---
Jackson James Humanic
7/11/2011
You tube win for Jackson. Click here to view.
Fast forward to 3:25 mark for Jackson's part.
Click here to read the interview with Jackson James Humanic.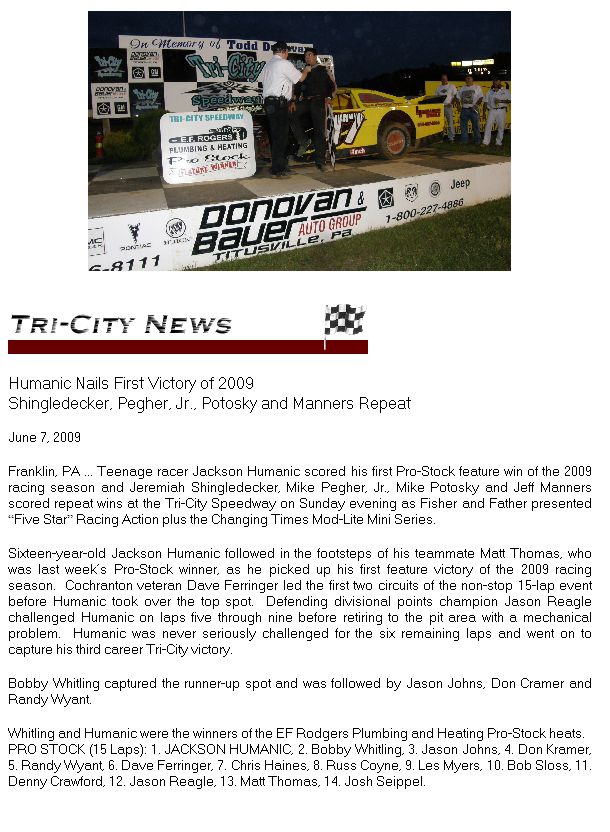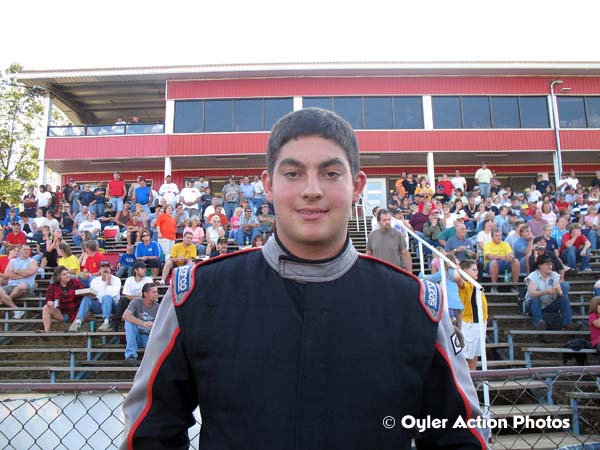 August 3 2008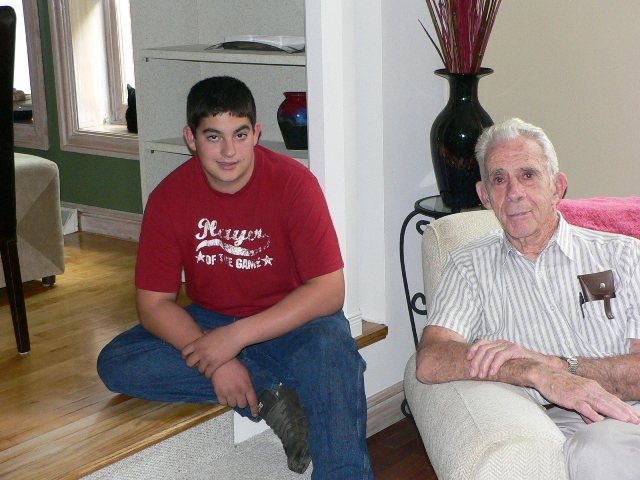 Jackson with his grandfather Edward Gerard Codori Sr.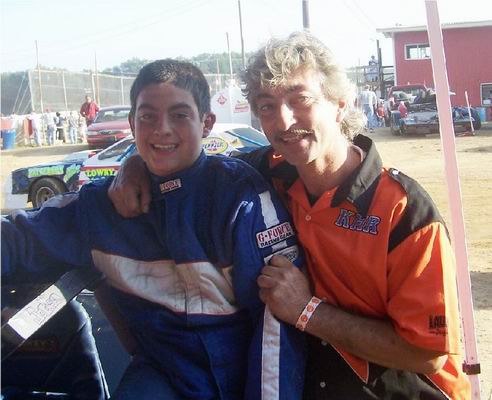 Jackson with father ken Humanic 7/2007.
.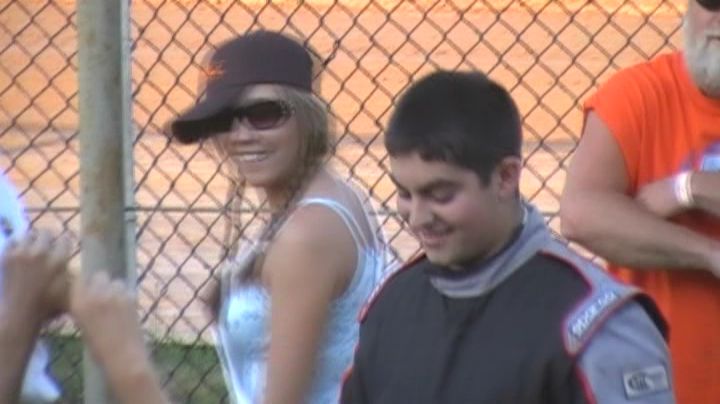 Jackson signing an autograph while Jill; aka Miss Tri-City Speedway 2007, looks on.
6/24/2007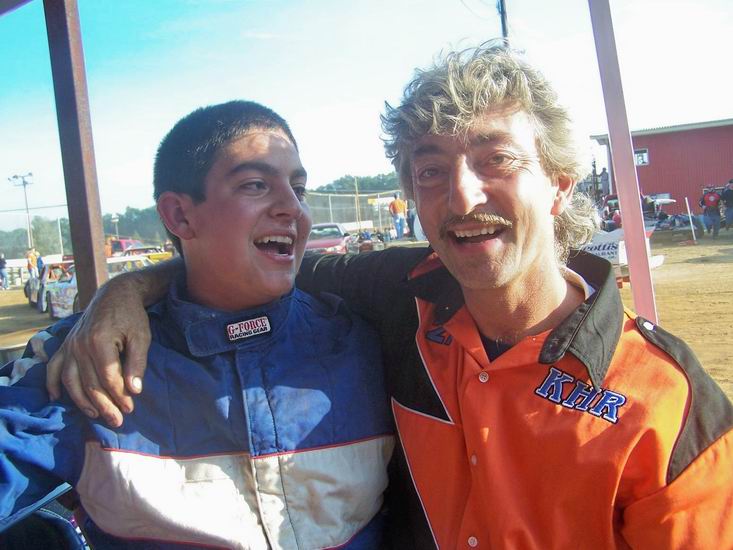 Jackson with his father Ken.
Photo from E and K's web site at: http://www.winchrental.com/jackson_humanic.html
From the KHR motorsports web site at: http://www.kenhumanicracing.com/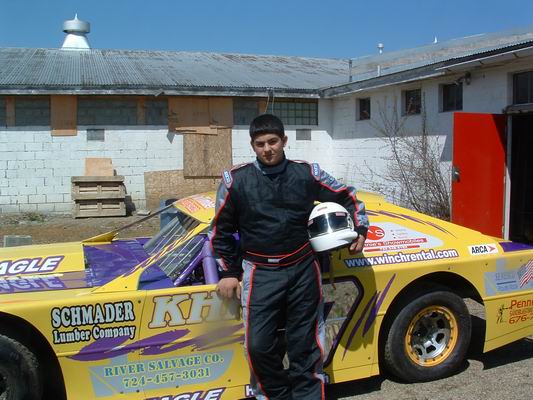 Jackson with his car starting the 2007 race season.
| | |
| --- | --- |
| | |
| Jackson with his sister Malissa ready for an aunts wedding 9 2004 | Jackson with another trophy for his go-karting skills |
| At age 10 | The checker flag. |
| | |
| --- | --- |
| From the E and K web site | Jackson with his home built car. Jackson did all the work, welding and motor work. 6/14/2005 |
Christy Ann (Codori) Humanic on the left with her husband, Ken, and their two children Jackson and Malissa.
Jackson James and his car #17 on display at the Clarion Mall in Clarion, Pennsylvania.

Team mate of Jackson James is Gary Bruce with his car #27

Poster for Ken Humanic Racing, Inc.
Letter from E and K and Ken Humanic Racing
Hello race fans!
The 2006 race season is about to start and KHR is ready to go! Attached are a couple of photos of the cars. They look really sharp!
The USAR ProCup (Hooters Cup) car will be piloted by Gerry Bruce. Gerry is a seasoned driver who, last season, took the KHR Pro-Stock to the top and secured the points championship at Tri-City Speedway for the team. Plans are to try to qualify and run five USAR races during the 2006 season in the '06 Ford Focus, then run a full schedule in 2007. We hope you'll all be able to come to the races and cheer Gerry on to the checkered flag!
This season the #17 Pro-Stock will be driven by Jackson Humanic. Jackson has raced kart on a local, state and national level for the past few years. Jackson will run the car at Tri-City Speedway for the 2006 season. It's a big step and we're all looking forward to an exciting season for the dirt oval track racing crew.
Both cars are at the Clarion Mall in Clarion, Pennsylvania until Sunday, March 5th then they will be on display at the Cranberry Mall near Franklin from March 9th through the 12th. If you can, try to visit us at the mall shows.
Thanks for all your support, help and good wishes. We appreciate it! We'll see you at the races!
Donna
Ken Humanic Racing
(814) 67-SPEED
JACKSON HUMANIC IS TEENAGE SENSATION IN TRI-CITY SPEEDWAY PRO STOCKS
by Brian Spaid
August 11, 2006
This Sunday night, Tri-City Speedway may be hosting Kids Night, but at least one teenager is not interested in bike races anymore.
Jackson Humanic of Titusville is the 13-year-old son of Pro Stock car owners Ken and Chris Humanic. In 2004, Gerry Bruce of Franklin won five feature races and the track championship for the Humanics. This season, Bruce and the Humanics started a different venture in the USAR Hooters Pro Cup Series. Even with the decision to move to asphalt racing, their title-winning Pro Stock still sat in the garage. That is, until young Humanic was tabbed for the ride.
"I really wanted to drive our Pro Stock," said Humanic. "I've always wanted to drive Pro Stocks.
So, Ken Humanic contacted track owners Mike Graham and Roger Crick about the chances of Jackson Humanic racing the Chevrolet No. 17 in 2006.
"We don't make decisions like this lightly," said Graham. "We are not opposed to young drivers because they are the future of our sport. But we will only allow teenage drivers to compete at Tri-City if they have demonstrated a significant amount of racing experience.
For five seasons, Jackson Humanic competed in go karts at tracks such as Pine Hill Speedway in Shippenville, Slippery Rock Speedway, Selinsgrove Speedway, Race 1 Raceway in DuBois, and Double A Speedway in Utica. Humanic won 11 races at that level. He also gained vast knowledge working with his father on race car setups for Bruce since their Pro Stock team started in late 2003.
With the appropriate parental waiver signed, Humanic started his Pro Stock career in a practice session on the Venango County half-mile oval on April 29.
"The first couple of races were a little nerve-wracking in a full-size car," said Humanic, who turns 14 on Aug. 19. "Once I got going, it's been a lot of fun. The biggest thing to learn about the Pro Stocks is throttle control. In go karts, you have no throttle control. In the Pro Stocks, you have to learn it. You also have to learn how to use the brakes when racing.
Humanic also found that the speed difference was much different in the Pro Stocks compared to the lightweight go karts.
"I expected the Pro Stock to be faster, and it really isn't. The speed sensation is different. In the go kart, you're in a lighter race car going 50 mph on an eighth-mile track. The Pro Stock has faster speed, but it is heavier on a larger track. It makes the car setup much more important."
Of course, it helps that Humanic has the 2005 track champion in his pit area to teach him the ropes.
"Gerry's been helping me a lot. He tells me when I'm doing something wrong or what I need to do to improve.
Bruce still drives the car in the Detroit Iron Pro Stock Series races, and collected a feature win in Humanic's car on July 16. Bruce's efforts helped move the teenage sensation into the top five in the Pro Stock point chase. Even so, Humanic has already started to make a name for himself at Tri-City. On June 18, in his fourth night of competition, Humanic won his first heat race. He followed that victory with another heat race win on July 9.
"I was really surprised when I won that first heat race," said Humanic. "It just came to me. I think we can get better and do some adjustments to the car. Everyone got faster in the offseason and we need to make some improvements to our team to get us back up front consistently.
The other Pro Stock drivers have apparently accepted the young racer among their ranks too.
"I pretty much know the other drivers because I've worked with my dad and Gerry for the last few years," said Humanic, who is home schooled. "They talk to me. I just want to earn their respect on the race track.
With some rapid success at the early stages of his oval track career, Humanic seems to have the talent to move up in the sport's ranks. It seems natural given that his father's team, KH Racing, runs on the USAR Hooters Cup Pro Series.
"I want to win a few races in the Pro Stocks, and I eventually want to move to asphalt racing," said Humanic. "You're allowed to race on the Hooters Pro Cup Series when you're 15. So, as long as dad and Gerry are O.K. with it, I'd like to give it a shot in the next couple of years.
Young racers have to start somewhere. Even Jeff Gordon raced a sprint car at Tri-City in 1985 at age 14. For Humanic, the Pro Stocks at Tri-City may only be the beginning.