This obituary of William F. Codori came to me by way of Brian Codori of San Francisco. Only half of this news article would copy so I have typed in the second half to the right.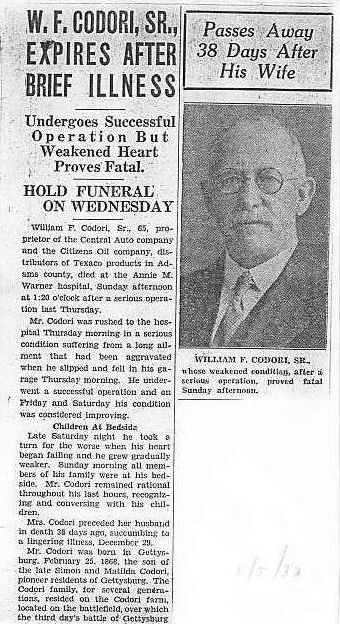 Part Two:
He took a turn for the worse when his heart began failing and he grew gradually weaker. Sunday morning all member of his family were at his bedside. Mr. Codori remained rational throughout his last hours recognizing and conversing with his children.
Mrs. Codori preceded her husband in death by 38 days ago succumbing to a lingering illness Dec. 20.
Mr. Codori was born in Gettysburg, February 25 1868, the son of the late Simon and Mitilda Codori pioneer residents of Gettysburg. The Codori family, for several generations, ________ on the Codori farm, located on the battlefield, over which the third day's battle of Gettysburg was fought.
For many years Mr. Codori was engaged, first with his father and then alone in the butcher business in Gettysburg. In 1912 he engaged in the garage business and later became a prominent distributor of gasoline, oil and other liquid fuels.
Funeral Wednesday
The body will be removed from the Bender funeral home to the family home, 44 York Street, Tuesday afternoon and may be viewed Tuesday evening.
Mr. Codori was a charter member of the Gettysburg lodge of Elks and a past grand exalted ruler; past grand knight of the Hanover council Knights of Columbus and a member of the fourth degree, the highest order in the council, Royal _______ and the Gettysburg Chamber of Commerce.
Funeral services Wednesday morning at 9 o'clock from St. Francis Xavier Catholic church, with a requiem high mass.
Surviving are Mr. Codori's mother, Mrs. Matilda Codori of Emmitsburg; seven sons and two daughters. William F. Jr., and Joseph E. both of Gettysburg; Edwin A. York; Mrs. Paul L. Roy, John A., Charles S., Richard S., Mrs. Richard Cole and Robert A., all of Gettysburg; three sisters, Mrs. George Eberhart, Gettysburg; Mrs. Clerence Fraley, Emmitsburg; and Miss Anne Codori, Emmitsburg, and two brothers, Monsignor John Codori of Johnstown and Leo B Codori of Crafton a suburb of Pittsburgh. Eleven Grandchildren ________________