The Codori Family

Home | Codori News | 44 York St. | Family Tree | Our French Connection | Codori Pictures | Codori Signs | Codori Site Map | Cordary/Kotary Site Map
The Codori Farm | Codori Reunions | Nick's Art Work | Codori Companies | Hottviller, France | Pam's Book | St. Francis Book
---
Laurence Murray Codori Sr.
All photos on this page are courtesy of Dr. Ann Marie Codori.
From the web site of Patti Kehler post by Ann Marie Codori 9/1/2000

This is a photograph of my grandfather at about age 60. He was born 11-30-1895 in Baltimore and died 4-19-1968 in Philadelphia. He was educated at Temple University Medical School and practiced medicine until his death. He is a descendant of Antoine Cordary (b1794), through Jacques (Jacob) Cordary (b1837) and John Anthony Codori (b1866).
--------------------------------------------------------------------------------
Also, information from Patti Kehler's web site, about 2001.

Laurence Murray Codori (b. November 30, 1895, d. April 19, 1968)
Laurence Murray Codori (son of John Anthony Codori and Melvina Blanche Moran) was born November 30, 1895 in Baltimore, Maryland, and died April 19, 1968 in Philadelphia, Pennsylvania. He married Marie Anges Silk.

Notes for Laurence Murray Codori:
Hobbies: classical music and woodwork.
Has two boys and three girls. (source: Catherine Codori Cole - newspaper clipping from the past)

More About Laurence Murray Codori:
Graduated 1921: Temple University Medical School.
Residence: 2405 W. Lehigh Avenue, Philadelphia, PA. until 1968

Wedding day photo of Margaret Codori with her husband Edward Kozakowski.
Also in the picture L to R:
sisters Marie Codori, Blanche Codori and father of the bride Laurence Codori Sr.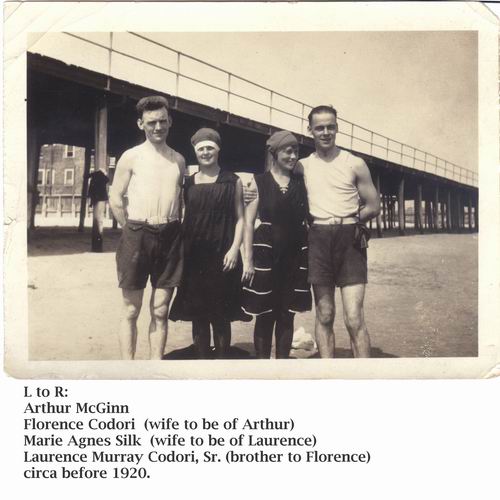 Four photos below were taken before or around 1920 - 1923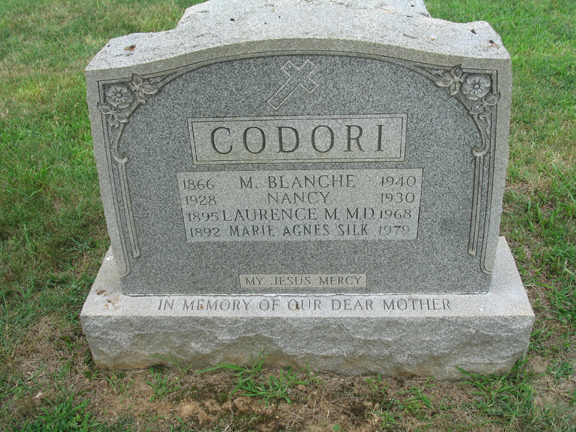 W2 draft record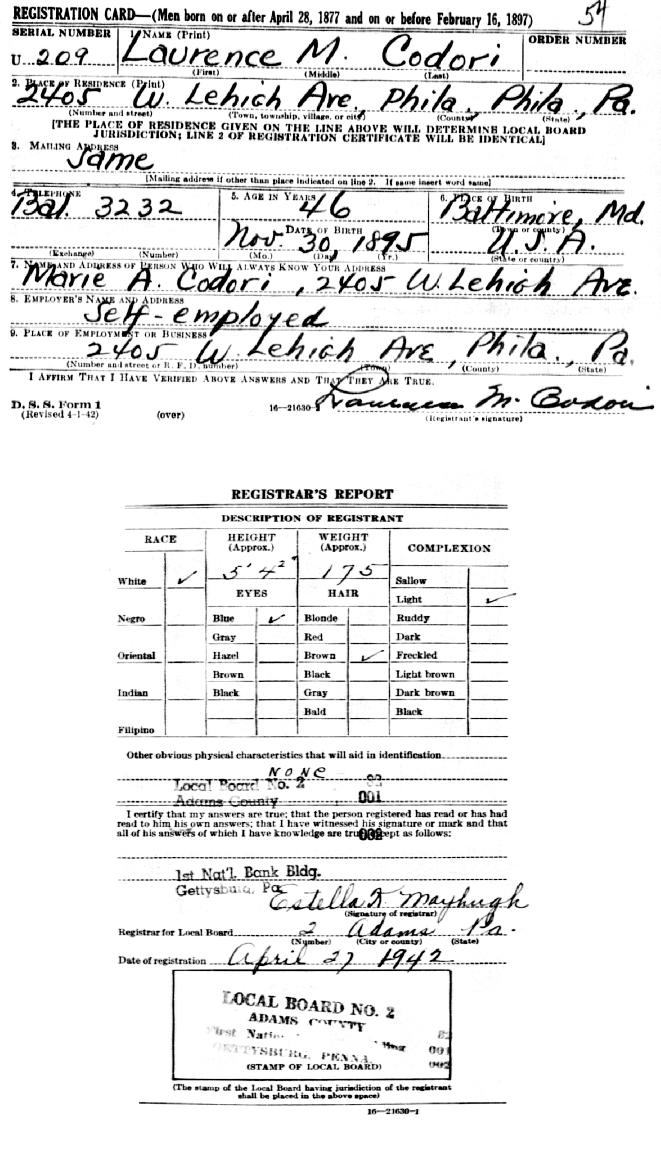 WW1 draft record.