The Codori Family

Home | Codori News | 44 York St. | Family Tree | Our French Connection | Codori Pictures | Codori Signs | Codori Site Map | Cordary/Kotary Site Map
The Codori Farm | Codori Reunions | Nick's Art Work | Codori Companies | Hottviller, France | Pam's Book | St. Francis Book
---
Loretta Neumann Miller

Obituary for Loretta Marie Miller
Loretta Marie Miller
(12/12/27 – 11/22/14)

Our dear mother passed away in her sleep just a few weeks short of her eighty-seventh birthday. She had spent the preceding days and nights surrounded by family and friends.

Loretta Marie Neumann was born in Camden, New Jersey, the first child of Ernest and Marie Neumann. During the Depression, the family moved to many locations on the East Coast as her father relocated for work. When they came back to Camden, Loretta met Joe Miller. They married after he returned from serving in World War II, and the couple had four children.

For most of the 50s and 60s, Loretta worked as a stay-at-home mother and homemaker. We will always remember her as tirelessly loving and giving. The Miller family moved several times (to Connecticut, Massachusetts, Florida, New York), but she always managed to handle the changes with grace and even an appetite for the adventure of it.

A woman of amazing drive and talent, Loretta seemed to excel at everything she put her hands to. She was a master seamstress, sewing everything from prom dresses to hundreds of costumes for children's dance recitals. She also liked to knit, crochet, and embroider. Later she mastered macramé and stained glass making. She was also a good cook, baker, and candy maker.

After her children were grown, Loretta went to college and obtained a degree in English. She loved to write short stories and memoir pieces. She also had a life-long passion for music and played the piano and organ. In her fifties, Loretta became a music educator and taught hundreds of children and adults in the San Jose and Denver areas.

Loretta and Joe Miller moved to the Baywood Court Retirement Community in 2005, where they made many friends and she served as the editor of the newsletter. Joe passed away in 2008.

Loretta is survived by sons Ken and Joe, daughters Judith Miller and Susan Silva, son-in-law Armando Silva, daughters-in-law Pam Brandau and Barbara Miller, 6 grandchildren, and 5 great-grandchildren. She also leaves her sister Joan Lowrey, brother Edward Neumann, and their families, and many close friends at Baywood. The family would especially like to thank Barbara Garcia and Charlotte Paisley-Smith, who took wonderful care of our mother in her final months.

Services were private. A reception for friends at Baywood is planned for January 2015.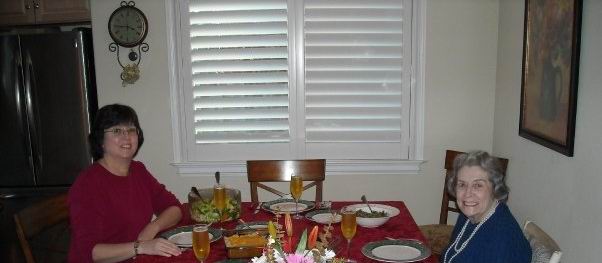 Loretta with daughter in law Barbara Miller.
12/2008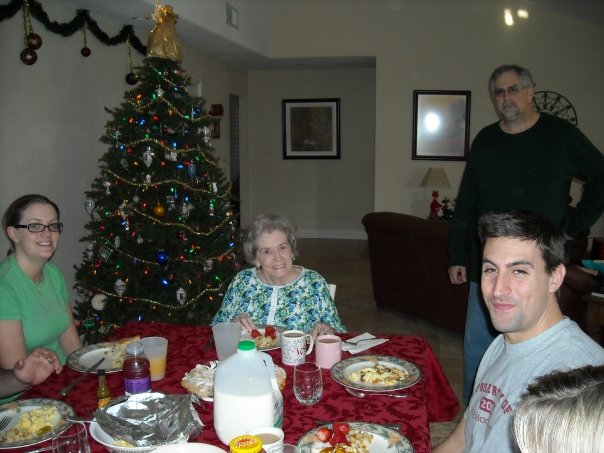 Loretta (center in green) with other Miller family members.