The Codori Family

Home | Codori News | 44 York St. | Family Tree | Our French Connection | Codori Pictures | Codori Signs | Codori Site Map | Cordary/Kotary Site Map
The Codori Farm | Codori Reunions | Nick's Art Work | Codori Companies | Hottviller, France | Pam's Book | St. Francis Book
---
John Nicholas (Nick) Codori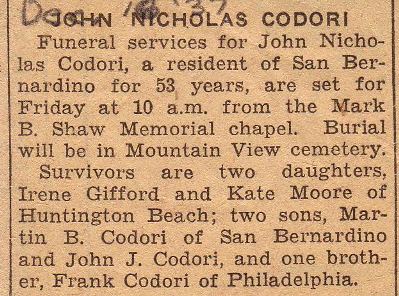 From a local San Bernardino, Calif. News paper Dec 16th 1937.
---
Nick was born in Gettysburg, Pennsylvania in 1859. He was a sign painter in his home town, and continued that work after moving to San Bernardino. I have the good fortune to have his sign painters sketch book and will share some of his work with you on another page of this site. Grandfather Nicholas was also a deputy sheriff in San Bernardino and served as a special guard at the Orange Show in that town. He died in San Bernardino in 1937.

One of the many sketches from Nick's sign painting book.

Click here to view more.

In front of their San Bernardino, Calif. home about 1910.

L to R: Fred Codori, Mary Anne Codori, John Nicholas Codori and J.J. Codori.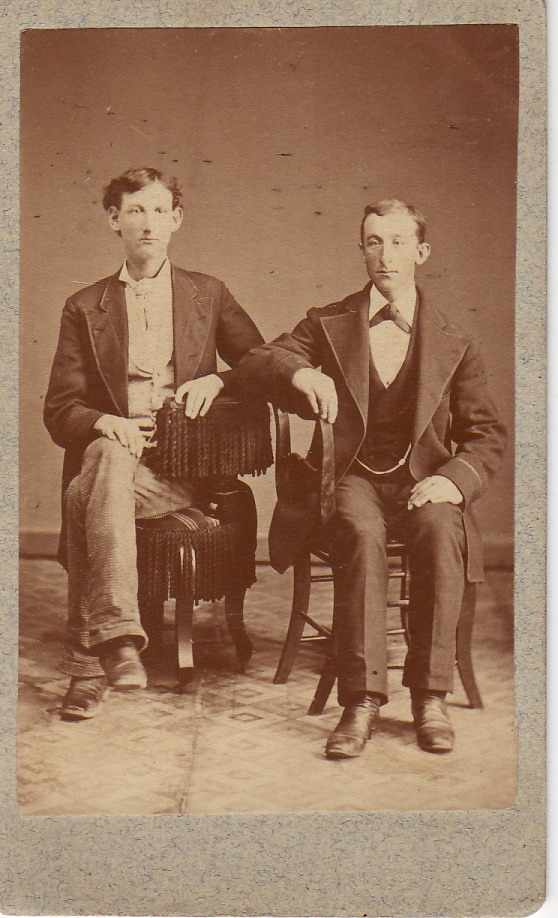 John Nicholas "Nick" Codori on the right.
Taken in Gettysburg, PA. early 1880s.
Voters register from 1888

Same as below